Oral Cancer Screening Sunnyvale
Oral Cancer is highly underdiagnosed and undertreated all over the world.  In the majority of the cases, when cancer is found, it is already in stage 3 or 4, which results in 57% of the patients being dead within 5 years.  We owe it to our patients to find cancer before it reaches these uncontrollable stages.  However, if we only do visual exams, we will miss the curable stages because it is not visible in the early stages.  Please see the diagram below.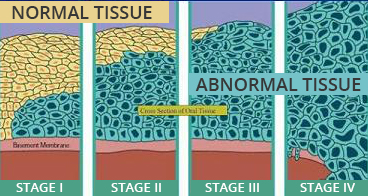 When we find oral cancer in Stage I and II, it is highly curable.
Stage I

: The surface looks normal. This is mild dysplasia.


Stage II

: The surface still looks normal. This is moderate dysplasia.

Stage III

: Shows abnormal surface tissue. This is when we can see it visually when we like carefully. Severe Dysplasia.

Stage IV

: Shows abnormal surface tissue. This can be seen easily but has a high modality rate. Carcinoma-in-situ.
We are proud to announce that we are now integrating the "VELscope" to our practice. This will allow us to find any abnormal lesion before it turns to cancer.


VELscope


State-of-the-art assessment tool for discovering oral health problems including oral cancer

Routine aid in the quest for both oral and systemic health
Simple, painless, non-invasive, inexpensive (and possibly covered by insurance)
Will only add 1-2 minutes to your routine oral hygiene exam
Early discovery leads to less invasive treatment and better outcomes