Joanna
Dental Assistant
I have been working in the dental field for more than 14 years as a dental assistant. Graduated from S.F & San Jose Dental Tech College in 2002, I have always loved my job and tried my best to make it a pleasant and smooth experience for my doctors and patients. I started to work in Dr. Tao's office since 2015, and so far it has been an exciting journey. Dr. Tao uses the most advanced technologies and equipment and it really shows how much she cares about her patients. I feel honored to work with Dr. Tao and to be part of this amazing team. I am fluent in Chinese Mandarin and English. With many years of my dental assisting knowledge, I will try my best to help you and make your dental visits relaxed and pleasant.
---
Michelle
Administrative Coordinator & Dental Assistant
I have been working at Tao Dental Care office since 2015. I am very grateful to be a staff member at Tao Dental Care. It is a privilege for me to be hired and work for a dental office that has such a highly advanced facility and technologies. While I am working full time here, I also used some of my spare time to take a dental class to advance my dentistry knowledge. In my free time, I love to cook, eat, travel, read, and do outdoor activities with my family and friends.
I can speak English, Mandarin, and Cantonese. I will always try my best to work with you to make your scheduling smooth and convenient for you and your family, to ensure your visits here are comfortable and pleasant.
---
Anna
Financial Coordinator
I have been working in the dental field since 2009. I was a clinic manager at a different practice. I am enjoying working at Tao Dental Care because we have a diligent and knowledgeable team. The advanced technologies Dr. Tao provides in our practice have spoiled me. I am very thankful for the flexible schedule Dr. Tao set up in her practice, and as a result, I was able to further continue my dental education while working as the financial coordinator. It makes me feel pride when I am able to provide patients with an accurate account or insurance information. I like the reward we received when our patients are satisfied with the care and treatment they have received from Tao Dental Care. It is my responsibility to follow up with the insurance company if there are any problems. Additionally, I am also qualified and enjoying to work as a dental assistant, and various other office roles as needed. I am so grateful to be a part of the Tao Dental Care team.
---
Karla
Registered Dental Assistant
I am grateful to have the privilege to work with a team that strives for quality and efficiency. I pride myself on giving the best education to all our patients. We have worked side by side learning the latest technologies with Dr. Tao since 2011, and helping people in the dental field is my passion. My skills include chair-side assisting, and one-on-one oral health education. It is of utmost importance that we provide a comfortable and fun environment for both the team and our patients!
---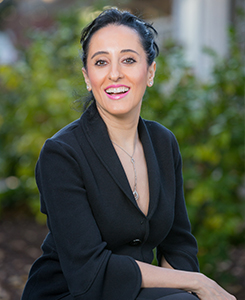 Haleh
Registered Dental Hygienist
Being of service in the dental profession is my passion. The care that I give my patients, and the great relationship that I have with them, is a direct result of that. I believe the path to becoming successful as a Dental Hygienist begins with the way we present ourselves to our patients. A smile, an extended hand, a held door…offering assistance and a simple gesture of kindness sometimes get lost in the fast pace of our health care responsibilities. My passion lies in advising and encouraging patients to see the dentist regularly and in emphasizing the importance of oral hygiene. I have experience working individually with many patients performing routine cleanings as well as identifying key health and oral conditions. I am a member of the American Dental Hygienist's Association, Santa Clara Dental Hygiene Association, and Dental Hygiene Committee of California. I have graduated from Melli University in Tehran, Iran in Dental Hygiene in 1995 and continued my educations at University of California San Francisco in 2007 and completed my educations at Carrington College California and earned the Class Valedictorian title in 2013. Additionally, I am Laser Certified by Advanced Laser Hygiene's Academy. I am bilingual and I speak Farsi fluently. I am married and have a 12-year-old son. I live in Sunnyvale and my hobby is to spend time with my family and friends.